In the rental car from Heathrow, the radio was announcing of the Queen's ill health and that the senior Royals had been summoned. If you are English, you knew it was ominous.
God save the Queen
2 hours later, when we were 10 minutes away from mum's house, the "We interrupt this broadcast…" voice came on. When God Save the Queen/King played at the end of the broadcast, I burst into tears at the wheel. Had we not been in London traffic, I would have had to pull over. Looking over at other drivers, many had a look of disbelief on their faces or were wiping tears also, I've never known a world where QEII was not in it. As I was visiting mum who has an aggressive cancer eating at her body, this news brought much to my reality. I don't know a world where mum is not in it either.
9-11
It was one of these time-stopping moments where we can pinpoint exactly where we were when the news came. I am reminded of 9-11. I was driving over Hardbrücke bridge, coming from the airport where my team and I, at American Airlines, had dispatched from Zurich airport the very aircraft that carried unknowingly at the time, one of the terrorists.
The mood over the next 2 weeks in London and the UK was one of peace and gentleness, fun of life…and respect. It was as if we were all coming to terms with the new state. Tourists still clogged Oxford Street, the West End and all of London. Many of the shop windows up West, were draped in black and every-single-shop, every advertising monitor, bus-stops, station etc. had a photo of her late Majesty and expressing condolences. We still went to our usual places St Katherine's Dock, Covent Garden, Camden, pubs, shopped at our usual places, caught up with friends and family, cruise along the Regent Canal and even went glamping in Sommerset at an orchard where delicious Cider is made. I went to pick up a souvenir at Harrods for a team member, then Marks', Waterstones and of course Fortnum & Mason: my favourite. The telly remained on as we watched the events unfold, the new King take his place and paying respect to the late Queen.
Green Park
Monday 19 August, hubby and I set off at 6am for Green Park. The Underground was deserted. We really thought there'd be hundreds of people on the tube, we even wondered whether we got the right date. Until…we got to the top outside the station and walked into Green Park. Organised queues, wardens, Police, military all lining the paths to viewing areas for thousands of people. All, like us wishing to bid a final farewell to QEII. We got a perfect spot at the Queen Victoria round-about in front of Buckingham Palace.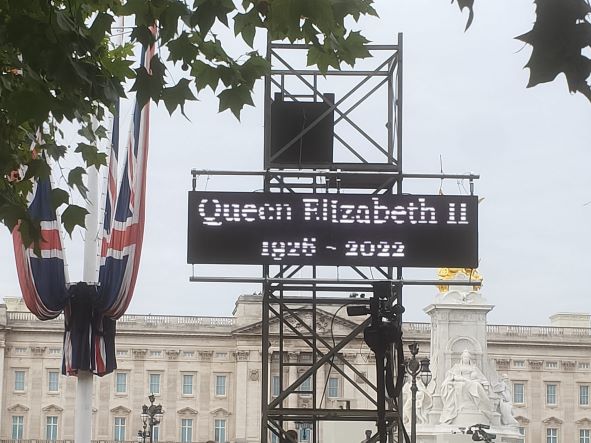 During the 2-minute silence which marked the end of her funeral service at Westminster Abbey, all of London fell silent, big city as London is, one could have heard a pin drop.
Like millions around the world, I had seen her coffin several times by then on TV, in various forms of transport, yet it wasn't until I saw the cortege approach along the Mall, heard the sounds of people clapping as her coffin went passed them and us, that I finally truly grasped it: her greatness in life and her magnificence in death.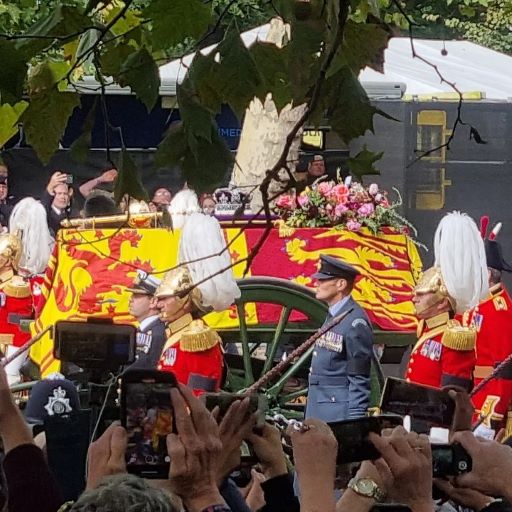 Hubby and I will never forget this trip which started with landing at Heathrow on 8 September 2022, our wedding anniversary. We will remember how a nation and nations around the world paid their tributes (37.5m people on TV in UK, 4.1billion around the world) as we together with over 1m people along the way, witnessed a part of history.
Most importantly I felt blessed to have been there, I cherished the reminder to make the most of the present, of my mum and my family.