After holding 26 roles in 46 years, you could say I know a few things…
… about landing a job and getting back into the workforce. You could also say I've picked up a few things about fulfillment
and success — mostly the hard way 🙂 
My inspiration came partly from my grandmother who through determination and hard work became a successful clothing designer for women of high fashion — becoming admired and sought after by the very people who had once shunned her. I was also inspired by my mother who had the courage to leave her abusive husband, my father — after he had taken all her money🙁
So around age 13, I promised myself never to depend on anyone for money. Mum said she couldn't afford all my "childish luxuries."
But like my grandmother, I was determined, so I got a job delivering newspapers in the early hours before school. I got such a buzz knowing that I could pay for my own things!
I was good at studies, always taking classes to better myself, but as a young woman, I yearned for independence. So I kept on working, in my early 20s landing a job in reservations for an international airline. The thought of marriage made me feel like gagging, but at age 22 I thought I had met a great guy, so we moved in together. Life appeared rosy for a while…until it wasn't…
Suddenly, everything I had known about the women in my life — all the terrible relationships they had endured and all the degradation they had suffered at the hands of men — was at my doorstep. 
My partner became my worst nightmare: a woman-beater who controlled me, my movements and my finances. My life was filled with chaos and negativity.

I lost a lot during those dark years. I lost confidence in myself as a person, as a woman and an  employee. I lost my voice. I lost my self-esteem and natural delight in life. I endured five miserable years with that man until he put me in hospital for 17 days..
After I left him, I worked and saved my money and put a deposit on my first apartment. Alone.
At last I was free again. Free to live my own life. Free to count my blessings and learn the lessons life was trying to teach me. Even after I moved to a UN office in Geneva, life continued to teach me difficult lessons —about relationships, money, work and myself. And I did my best to learn them, eventually embarking on a journey to discover who I was.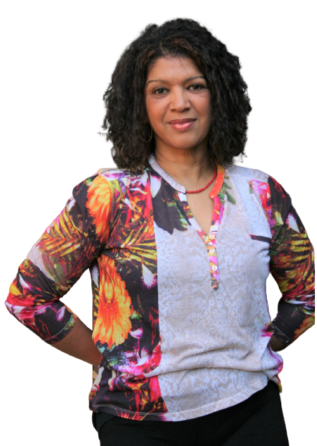 My journey forced me to ask myself some difficult questions
My search for myself eventually led me to Santa Fe, New Mexico, where I met and worked with a French shaman and later with Don Miguel Ruiz who taught me how to let go of my burdens, begin to love myself and embrace the daring and passionate being I truly was.
Over several years, I liberated myself from my anger, fears and limitations. I cried a lot, letting go of old baggage that no longer belonged to me. I learned to embrace who I was and trust my intuition and especially to drop all judgment
I also reclaimed a healthy identity as a woman and began to draw to me like-minded, like-hearted beings. At last I began to feel my sense of adventure and my passion and feistiness coming back. I even began to dance again!
Then I turned to looking at my work health. I realised that I was not efficient with my time and energy. I looked at my experience, my skills, the jobs I had had, what was positive for me and what was negative. I looked at my style, my presence, my abilities, my assets and strengths.Then I looked at what I was naturally good at and what made me happy…
I strategized my way forward, making plans for the future. I certainly didn't have all the answers, but I left room for surprises. And finally I felt a new "me" emerging — a more mature woman who would be able to work and play in a much more balanced way.
The "new me" returned to Switzerland, full of hope and glowing energy. There, I earned my teaching certificate and got the confidence to stand in front of a room and speak with authority and conviction.
During that time, I also attracted a wonderful man, to whom I am still married. After nine years at the school, hubby and I decided to pack up and go to Australia. There, with the same spunk and determination as my mother and grandmother, I eventually worked my way up to a doctoral degree in project management.
Today, I'm a well-paid program manager, workshop facilitator and trainer. In short, I now teach,coach and share what life has taught me — just what I've always wanted. Yet I still have time to do all the things that are important to me. I am unconventional, but I am living life on my own terms, financially independent and fulfilled.
Won't you join me in this program to gain the presence and skills you need to reach the success you so richly deserve?
I would be honored to serve you!
Wouldn't you want to feel fulfilled with yourself and your life?
Now, I realize it is time for me to give back. Time for me to help other women reach their true potential using their innate skills and life experience. Time to coach them to land exciting, well-paying jobs. Time to teach them to become successful professionals who can speak with confidence and have as beautifully fulfilled a life as my own…..
I have learned a lot during my 26 years in the job market — much of it the hard way. After all my personal and professional trials and successes, I am now ready and eager to serve women who need my support. Women like you. So that you don't have to do it the hard way!
never ran at all before that. Since, I ran 4 half-marathons at 53
and 3 marathons at 54 and 1 marathon at 55. My dream…to run the Great Wall of China
marathon…if we ever get to travel again…
Fly a helicopter,I guess I would need to get a helicopter pilot license first though…
South America especially Tierra del Fuego; Japan during the cherry blossom season; Canada and stay at 'that' hotel in Banff in the most luxury room there in winter…OMG and Belize…
grow up strong,healthy and good in his heart, mind, body and soul
live on land big enough to have 3 dogs and 2 horses. I currently have Chiarman Mao (our diva cat) and Cookie – featured on this website.
beach people.Whatever the weather...and as this is South Australia-the weather is usually pretty amazing!
drums – any drum. I can knit, sew, crochet and bead. Though not all at the same
time…
©2021 Desiree Beekharry Coaching All Rights Reserved
info@desireebeekharrycoaching.com